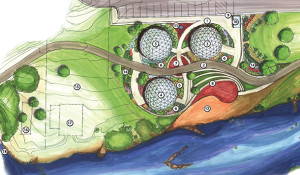 Phase I has been dedicated to building the organization.   This effort has been driven by a small team of individuals who believe strongly that our economically blighted small mountain town can be revitalized through the development of a natural resource – the geothermal water that we all sit on.  Since its inception in 2009 the team has been developing relationships with local, state and national public and private entities.   These years have been spent educating on the potential inherent in the resource.
Phase I Highlights
Host of Governor's Geothermal Working Group state-wide meeting, October 2011
Nominated by Governor Hickenlooper's Bottom Up Economic Development Strategy as a needed "Action" to diversity the county's economic base (2011)
Chosen as host of Colorado School of Mines Graduate Field Study, May 2012
Ranked "HIGH" on the Town of Pagosa Springs Community Development Action Plan (2012)
Recipient of a $25,000 grant from the Laura Jane Musser Foundation (2012). This grant funds the initiation of Phase II.