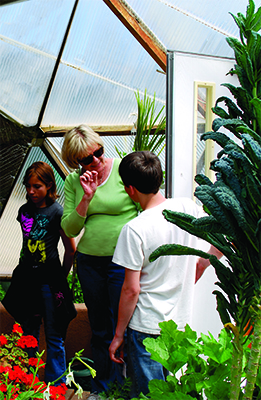 Phase II will be about the project – building and using the facility.  Construction of the physical project will take place on the 1.83 acres leased from the Town of Pagosa Springs. The build site is located along the San Juan River across the river from two of the three geothermal spas in the very core of downtown.
Geodesic Domes
Three 42-foot greenhouses will be geodesic domes produced by the local manufacturer, Growing Space, Inc., (GSI).  The domes are made of triple wall polycarbonate triangles with a black heating pool and solar controlled fans to regulate temperature.   A conventional wood frame structure will serve as the Welcome Center where eco-tourists will be drawn from all corners.   Construction will include foundations and Heat Exchanger/Cooling Systems for each dome with the requisite underground utilities.
Additional outside garden production areas, walkways, refrigeration units, public amenities and utility complete the physical project.
Education
The first of the three greenhouse growing domes is devoted to life-long environmental education – Pre-K through secondary students, Colorado State University Extension Services, and university level students, as well as visitors, eco-tourists and community members.