GGP IN THE NEWS
Read the January 2020 ABC Denver 7 News
story
about Pagosa Springs and the GGP.
Read the April 2019 Pagosa Daily Post

article
about GGP and the Pagosa Peak Open School.
Read the September 2018
BBC.com
article about GGP!
Read latest article about GGP
from Pagosa Magazine, Spring 2018!
**  Read GGP "…one of Pagosa's great success stories…", Norm Vance's  latest posting in The Pagosa Springs Journal
**  Listen to Colorado Public Radio podcast about the GGP project:
http://www.cpr.org/news/story/pagosa-springs-goes-in-for-geothermal-greenhouses
Centerfold article from 2017-2018 Pagosa Springs Real Estate & Relocation Guide (published by The Pagosa SUN).  Thanks to author, Leslie Wustrack and editor, Terri House.  →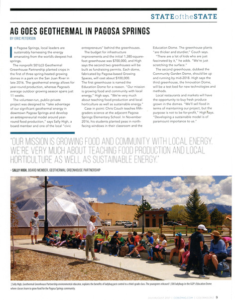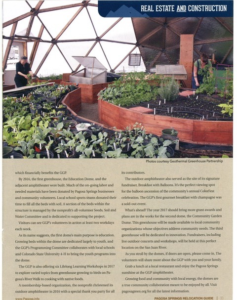 ←Recent Colorado Biz article (page 9), by Eric Peterson.  Thanks to Jennie (Town of Pagosa Springs Tourism Board) and Chris Couch.